SECOND ANNUAL "TITO'S SHORTIES CLASSIC" PITCH AND PUTT MATCH PREMIERING ON THE GOLF CHANNEL ON JANUARY 11, 2023 AT 7 PM ET
December 21st 2022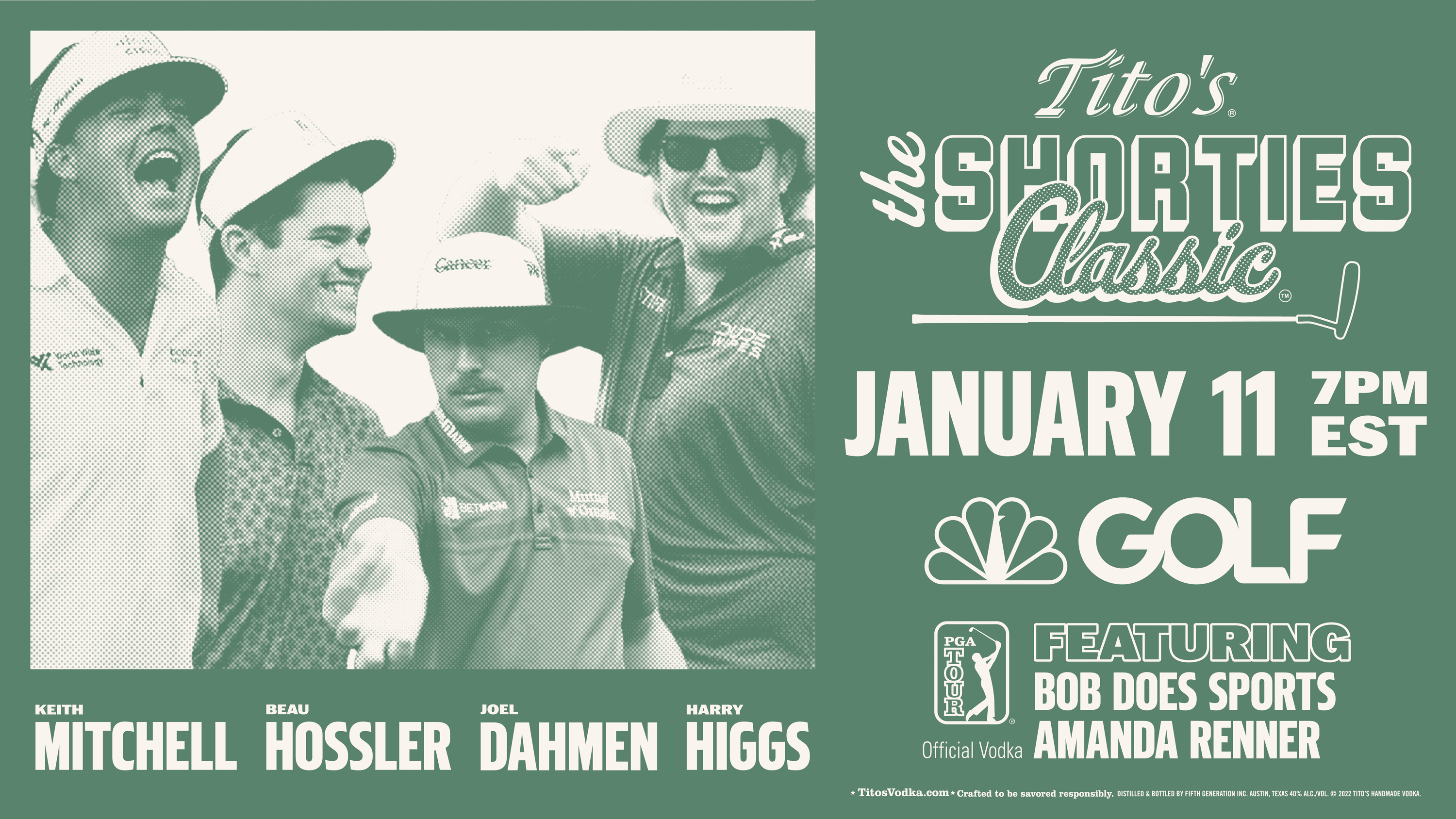 PGA TOUR Professionals Joel Dahmen, Harry Higgs, Keith Mitchell, and Beau Hossler Compete To Raise $290,000 for the Charity of Their Choice

WHAT: The second annual Tito's Shorties Classic pitch and putt match, presented by Tito's Handmade Vodka, the "Official Vodka Sponsor of the PGA TOUR and PGA TOUR Champions," will premiere nationally on the Golf Channel on Wednesday, January 11, 2023 at 7 pm ET. Filmed in Austin, TX, the Tito's Shorties Classic will feature the game of "Tito's Texas Team Skins" and pits Tito's Shorties Classic veterans Joel Dahmen and Harry Higgs against newcomers Keith Mitchell and Beau Hossler. For every point each player wins in Skins, Tito's will donate $10,000 to the charity they are playing for, for a total donation of $290,000.
The stakes are high, and the play will be electric, with color commentary by sports broadcaster and golf analyst Amanda Balionis Renner and the Bob Does Sports crew.
WHEN:
National Premiere: Wednesday, January 11, 2023 at 7 pm ET
Re-Air: Thursday, January 12, 2023 at 12 am ET
WHERE:
The Golf Channel (NBC)
*Originally filmed at Butler Park Pitch and Putt in Austin, TX
MEDIA ASSETS:
Landing Page: CLICK HERE
Official Trailer: CLICK HERE
Promotional Posters: CLICK HERE
High-Res Photos: CLICK HERE

MORE: Contestant Charity of Choice
Joel Dahmen: Dahmen Family Foundation
Harry Higgs: Fore the Kids
Keith Mitchell: Nantz National Alzheimer Center
Beau Hossler: Austin Community Foundation
Rules of Tito's Texas Team Skins
Points – Each hole is worth 2 skins. Skins are divided evenly between team members that win a hole outright.
Scoring – Lowest combined team score wins the hole. If teams tie on any hole, all skins roll over to the next hole. Skins continue to roll over until one team's combined score on a hole wins outright.
Wildcard – Reverse Mulligan – Each player will receive a reverse mulligan that can be redeemed at any time during play. When a player selects an opponent for a reverse mulligan that opponent must select one of the commentators to replay his shot. The opponent will then finish the remaining shots, if any, to complete the hole. Each player can only call one reverse mulligan in the round. Each commentator can only be picked one time for the wildcard reverse mulligan.
Bonus Skins – Greenies – An individual skin will be available on each hole for the player who hits their tee shot closest to the pin. That player must make par or better on that hole for the skin to be awarded to them. Bonus skins are awarded individually not to both members of a team.
Hole in One – A super skin (equivalent to 3 skins) will be awarded to any player who makes a hole in one on any hole.
Donation – $10,000 per skin to each player's designated charity.
SOCIAL MEDIA:
Instagram: @TitosVodka
Twitter: @TitosVodka
Facebook: @TitosVodka
YouTube: @TitosVodka
PRESS INQUIRIES: Sunshine Sachs Morgan & Lylis: [email protected]
###
About Tito's Handmade Vodka
Tito's Handmade Vodka was founded by sixth-generation Texan, Bert "Tito" Beveridge. In the mid-nineties, on a plot of land in rural Austin, he built a 998 square foot shack, rigged a pot still with spare parts, and created Tito's Handmade Vodka. Tito's corn-based vodka is certified gluten free. Tito's Handmade Vodka is distilled and bottled by Fifth Generation, Inc. in Austin, Texas, and is available in Liter, 1.75L, 750ml, 375ml, 200ml, and 50ml sizes. For more information, visit www.titosvodka.com.