Tito's Charred Vinyl
Leaf it alone and let this cocktail shake things up. Just like Linda Gail blazing her way through the Memphis music scene, the Tito's Charred Vinyl is all fired up. Starting early and into her later years, Gail shared a sound that got people out of their seats and into a moment they'll always remember. So, we had to create a drink equally unforgettable, equally smoldering, and with a spicy twist to match a musical heroine.
Recipe creation, musician research, and storytelling courtesy of Spatchcock Funk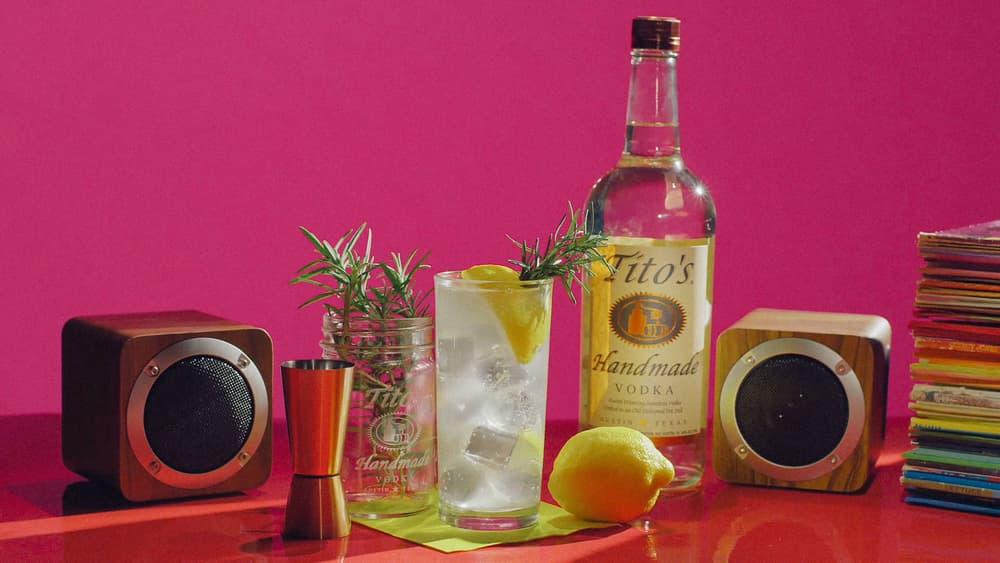 Infusion Ingredients

4 rosemary sprigs, charred with a blowtorch or over your stove

3 lemon slices

Infusion Directions

Torch your rosemary (the way Linda Gail torched the alt country scene at 71).

Place the torched rosemary and quartered lemons into a mason jar.

Add Tito's Handmade Vodka (or just fill it to the top).

Let sit for at least 24 hours, but 2-3 days is ideal.

No time for an infusion? No problem. Just add these ingredients to your shaker while building the cocktail.
Cocktail Ingredients

2 oz rosemary and lemon-infused Tito's Handmade Vodka

3 oz ginger beer

1/2 oz lemon juice

2 lemons, quartered

1 rosemary sprig, unburnt

1 lemon twist

Cocktail Directions

Pour infused Tito's Handmade Vodka, lemon juice, and ice in a shaker.

Shake, then add ginger beer and stir.

Pour in a glass over ice and get ready to be the belle of the ball.

Take the remaining lemon slices and spear them with the remaining rosemary sprig then garnish.

Add the twist, light up your remaining rosemary, and serve flamin'.