Our Tito's Handmade Vodka co-woofers put a smile on our faces every day, and because we couldn't do what we do without them, we're honoring one of our pawfect pups every month.
This July, we're continuing our "Co-Woofer of the Month" series with an exclusive interview with our sweet fur friend, Harper.
Harper is a 10-and-a-half-year-old (or 55 in dog years) mix who's the fur child of our Content Manager, Josie Fox. Harper is a "mystery mix" of many, loving breeds (it's what makes her so unique) and has been the Barketing Coordinator at Tito's for over three years.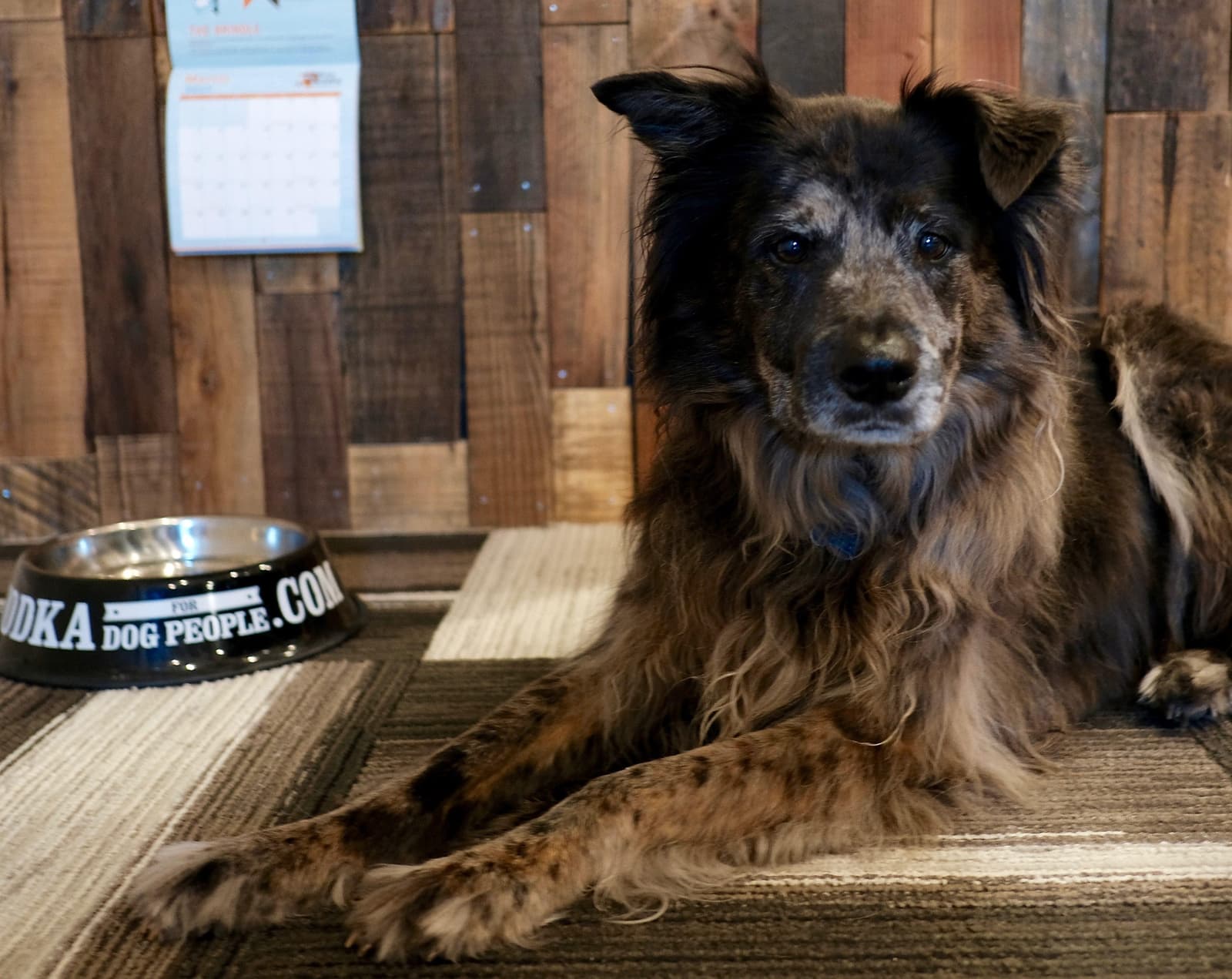 Our co-woofer met her human online through Pet Finder, and after Josie saw Harper's fluffy, stoic face, she knew they were meant for each other. Josie hopped on a ferry and travelled across the Olympic Peninsula to bring Harper back to her furrever home, and ever since then, they've been insepawrable.

Harper has lived across the country and is now based in our hometown of Austin, Texas. She has a never-ending itch to travel and likes to hit the road every year to leave her paw print across the country. Some of Harper's most notable accomplishments while travelling have been battling giant spiders in Durango, trotting through wildflower fields in Wyoming's Gros Ventre Wilderness, claiming the first tracks through snowy slopes all over the Northwest, and sleeping under starry skies that blanket the Northern Hemisphere.
So you can get to know our co-woofer Harper (or Harps for short), we asked her a few fun questions to hear what she has to say.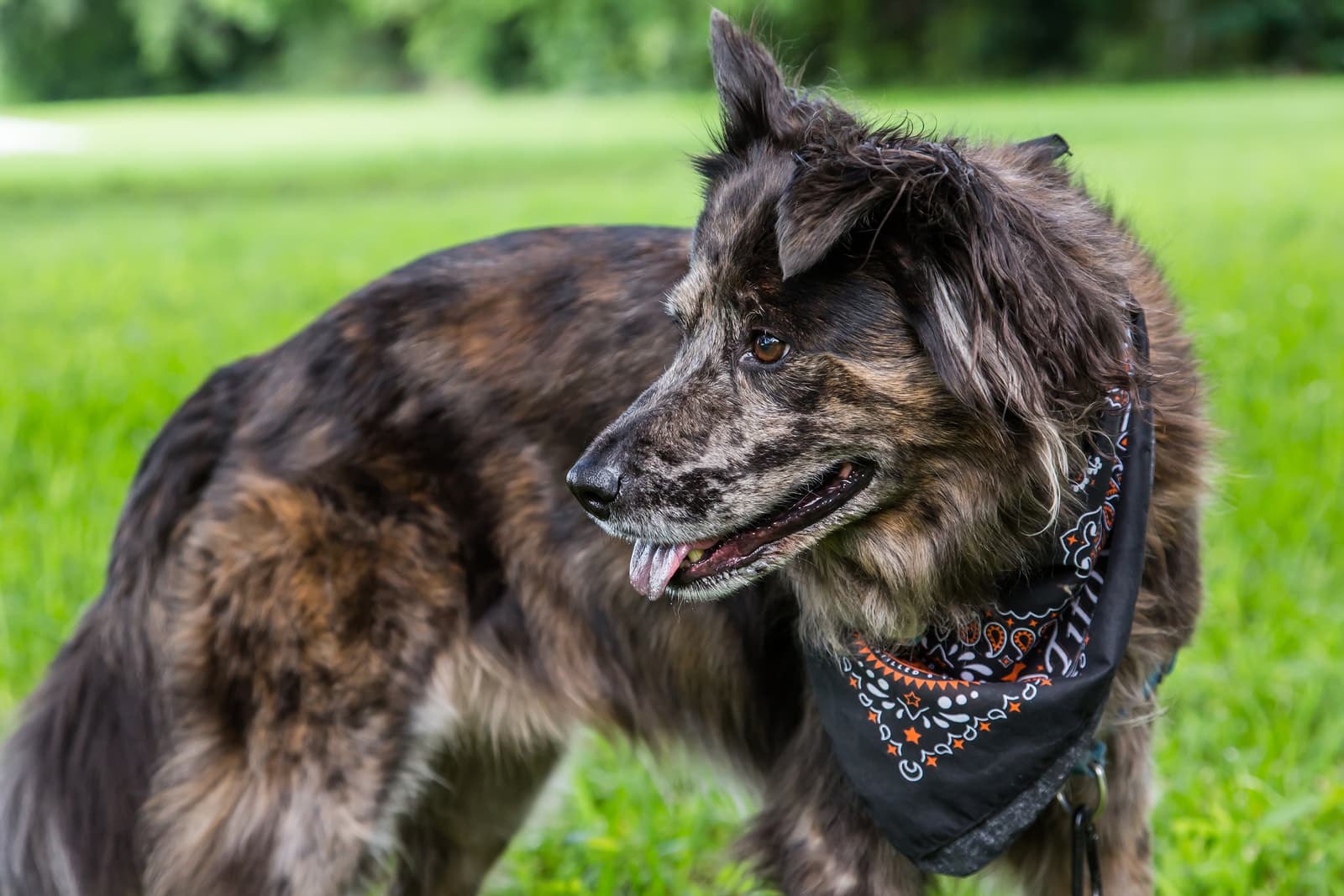 How did you (Harper) know Josie was the pawfect parent for you?

Harper: "When she held me in her arms and softly sang "Here Comes the Sun" to settle me in during those first nights in my new home. That week she set the precedent for a life of culture and adventure— we took our first weekly trip to the Ballard Farmer's Market where I was hand fed delicious morsels of smoked salmon by fishermen and admired by an adoring public, and she took me on daily adventures in Seward Park."
How do you like the Tito's Handmade Vodka office?
H: "I look forward to it every day and get extremely perturbed on those rare occasions when I'm not invited. I'm used to being around people and other dogs on a regular basis, but I truly appreciate the opportunity to experience different kinds of snacks, meaningful eye-contact moments and close-sniffs with many of my humans, and pleasant co-existing with other animals. I loved those few days when we had a kitten to care for. Kittens are my favorite co-creatures."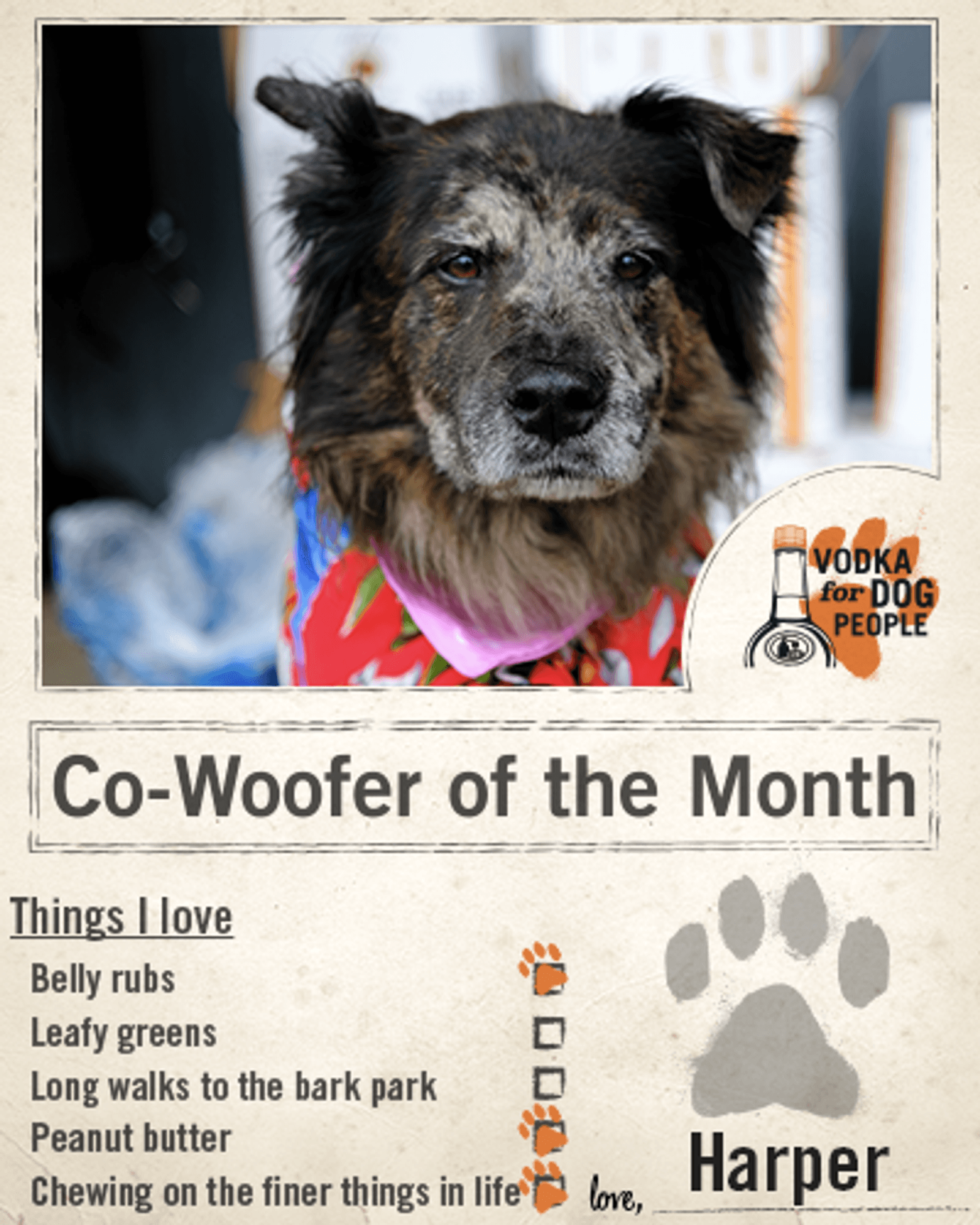 What's your favorite thing to do when everyone is working?

H: "I ease into the day with naps under different desks. After lunch, I take a leisurely lap around the Stardust Lounge just to make sure that the floor is clean. Sometimes I'm asked to model for Vodka for Dog People which is a compliment, especially at my age, but my patience is pretty limited… unless there are treats involved.
On slow days I like to tap my paw against Josie's desk and give her meaningful looks of mild discontent— sometimes it's because I want something, but sometimes it's just to let her know that I'm still there and that I need. Something. But I don't really know exactly what it is that I need. But she should give it to me."
What do you like to do in your spare time?
H: "I like to snooze… on the bed, on the floor, or even on a towel by the door, preferably on Josie's pillow or the new sofa, especially if I'm covered in mud or pollen. Fitness is important, so every weekend I hike and swim some laps around the creek and chew on sticks… and then take a nap on Josie's pillow. If I'm damp and chilly, I'll crawl under her sheets to get warm."
What's your best trait?
H: "I'm the total package, really. As Muhammad Ali used to say, "It ain't bragging if you can back it up."
I'm extremely chill, and can quietly adapt to pretty much any environment; I'm beautiful, in an unassuming, interesting way; I'm expressive, so humans know what I need (or that I need something) with just one look— I don't even need to make a sound, and I'm loving. I think that most importantly, I know when humans need me, and I'll be right there to give a little lick or let them rub my belly (it's kind of therapy for them I think)."
What is your favorite food?
H: "Salmon (especially wild caught King Salmon), juice from cans of tuna, fresh ground peanut butter, and raw cashews."
Who is your favorite artist?
H: "Since puppyhood, I've been inspired by the subjects of William Wegman's photography. I've tried to emulate the intensity, focus, depth, and soul they bring to every vignette, no matter how seemingly preposterous the subject matter.
From a tactile perspective, I'm a fan of American minimalist sculptor Richard Serra. The shadowed passageways and cold surfaces signature to his monumental sheet metal formations lend themselves to endless quiet, cool napping opportunities."
What's your favorite toy?
H: "Stuffed toys are my favorite diversion. I immediately rip open a seam to free all of the stuffing and squeakers. Next, I'll take a quick power nap amid the stuffing, which often gets stuck in my fur, but I wear it proudly like a victory badge. I'll carry around the unstuffed plush carcass until it disintegrates. Sometimes I'll expedite that process by burying it under some leaves in my backyard. The formerly-stuffed Santa toy from Holiday 2015 finally bit the dust this spring!"