Our Tito's Handmade Vodka co-woofers put a smile on our faces every day, and because we couldn't do what we do without them, we're honoring one of our paw-fect pups every month.
This June, we're kicking off our "Co-Woofer of the Month" series with an exclusive interview with our newest office member, Felix.
When our founder Tito Beveridge started making vodka at the Mockingbird Distillery in Austin, Texas, his best friend and co-woofer DogJo stood by his side through thick and thin every day. We've carried this principle with us into the Tito's Handmade Vodka office, where we welcome co-woofers of all shapes and sizes since we couldn't do what we do without out our canine counterparts by our side.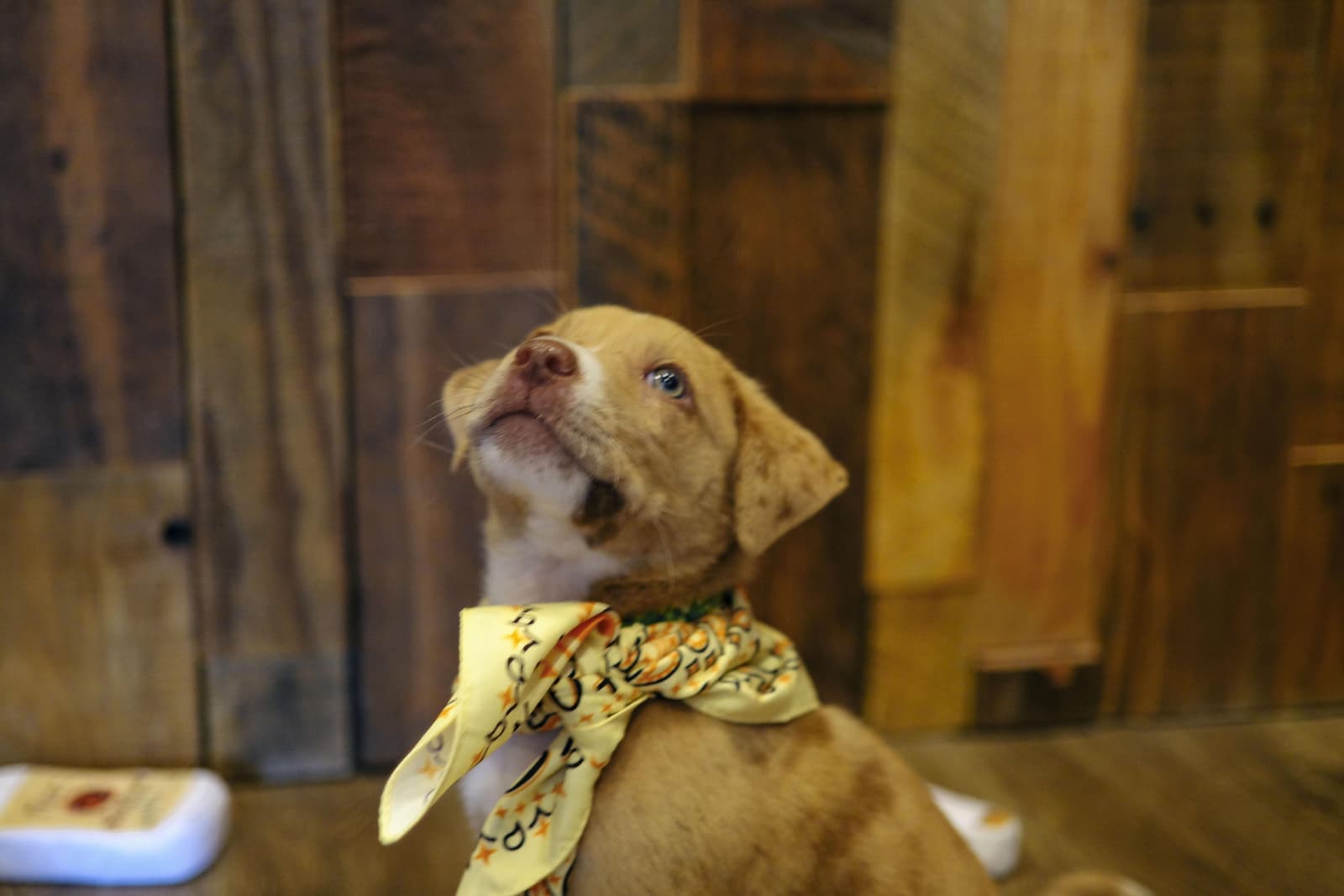 Felix is a 7-week old puppy (at least we think that's his age) who was adopted in late May by our star Creative Manager, Caitlin Warren. Felix was found roaming along the side of the road by our distillery in the heat of the afternoon, and Team Tito's rescued him in the blink of an eye.
Felix stopped by our office after being rescued for an afternoon of warm hugs, belly rubs, and lots of treats. The whole office instantly fell in love (I mean, look at that face) and it was in that moment Caitlin knew she was about to bring home a new fur baby.
After fostering him over the weekend, Caitlin took Felix under her wing to give him the fur-ever home he deserved. He now lives in her humble home with two siblings, a goofy Pit Bull-mix named Justin, and Dixie, a small and sweet Dachshund.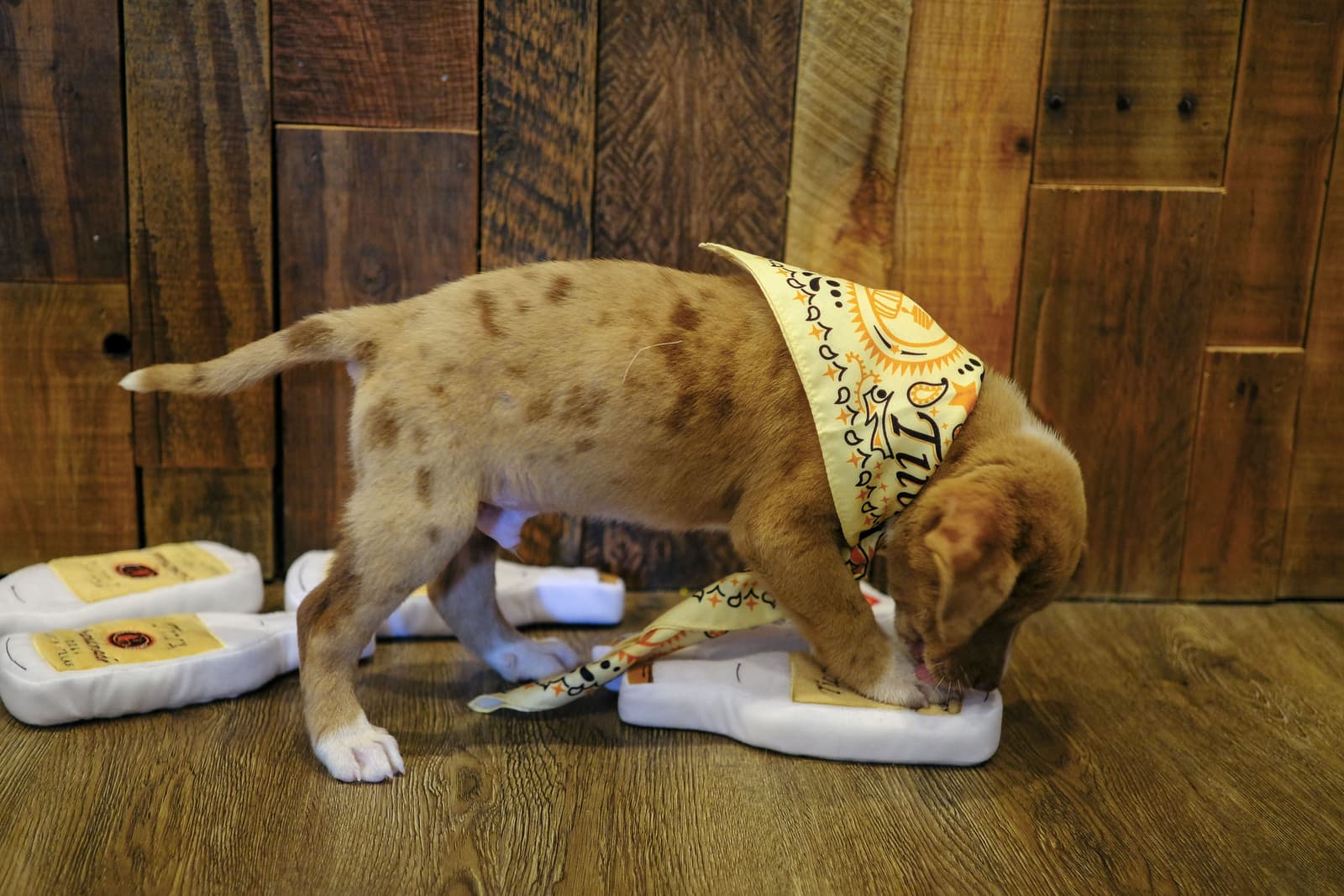 The principle of helping our canine counterparts live a healthy and happy life is at the core of our hearts, and it's what helps fuel our Vodka for Dog People program. Saving pups like little Felix (who's our 85th distillery rescue) and finding fur-ever homes for them is a pillar of our company, and it's even better when they become a co-woofer.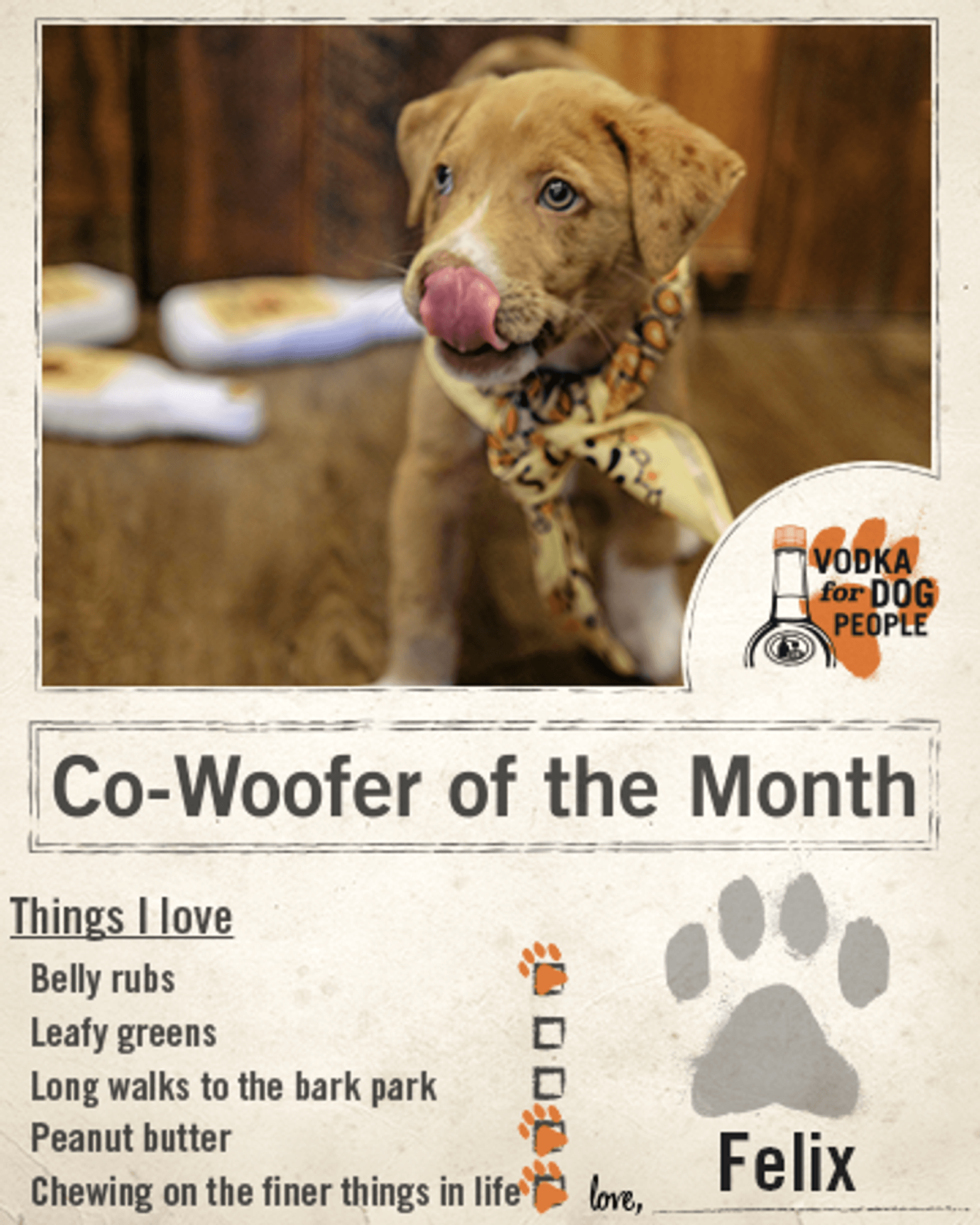 So you can get to know our co-woofer Felix (or as he likes to call himself, Fe-licks), we asked him a few fun questions.
How did you know Caitlin was the paw-fect parent for you?

Felix: "When she held me in the air, gazed into my eyes, and sang a ghastly rendition of 'You Are So Beautiful' with tears streaming down her face—that's when I knew. JK! She totally did that, but I knew we were a match when she read Vonnegut to me whilst I tenderly licked peanut butter from a spoon."
How do you like the Tito's office?
F: "13/10. Would go again. All of my favorite humans live there."
What's your favorite thing to do when everyone is working?

F: "Attempting to dazzle everyone into not working by the usual methods: uncoordinated running, head tilting, smelling like and just EXISTING AS A PUPPY."
What do you like to do in your spare time?
F: "Meet horsies. I made a macaroni necklace once but then I tried to eat it so not that."

What's your best trait?
F: "Some people say it's my amusing failed attempts at releasing humans from the bonds of their long hair via vigorous chewing, but—it's probably my sharp wit and soft, soft belly."

What's your favorite food?
F: "The dried up magnolia leaves from my aunt's front yard. Don't knock it 'till you've tried it."

Who is your favorite artist?
F: "Well, I've really been digging Bernini's classic alto-relief, but when I was being crate trained this past Saturday night, in an epiphanous 20-minute bout of insomnia, the sheer genius of Basquiat's more obscure found object sculptures moved me to audible tears. My human interpreted my sounds as the cries of a young puppy learning to navigate sleepy time on his own—isn't that the purpose of art?"

What is your favorite toy?
F: "A stuffed possum named Jolene. Also your shoelaces."