If you're feeling land-locked this summer, we've got a few cocktails that will take you to a tropical destination in one sip.
Frosty and boozy cocktails are quintessential when the weather is warm, and they're even better when based off of popular Tiki drinks found in the warmest of climates. From backyard cookouts to camping adventures and relaxing under the starry night sky, our Tito's Chi-Chi and Frozen Mango TitoRita will make any summer activity feel like paradise.
These ice-cool cocktails are easy to make, and the only thing you need to make your tropical dream come true is a blender. We recommend using a high-powered one to reach the ultimate texture.
Take a look at our recipes below to mix up our two favorite Tiki cocktails. If you feel inspired, create your own concoction and share it with us on social media by tagging #TitosHandmadeVodka!
This Piña Colada variation is best enjoyed poolside, or, even better, while floating in a pool in a giant inflatable flamingo. Never fear if you happen to be landlocked—one sip of this frosty favorite will have you feeling all of the tropical vibes.
Ingredients
12 oz pineapple juice

4 oz cream of coconut

4 cups ice
Directions
Add all ingredients to a high-speed blender and blend until smooth.

If necessary, add more ice or more pineapple juice to reach the desired consistency.

Garnish extravagantly with umbrellas, fresh fruit, or neon monkeys or mermaids.

Serves 4.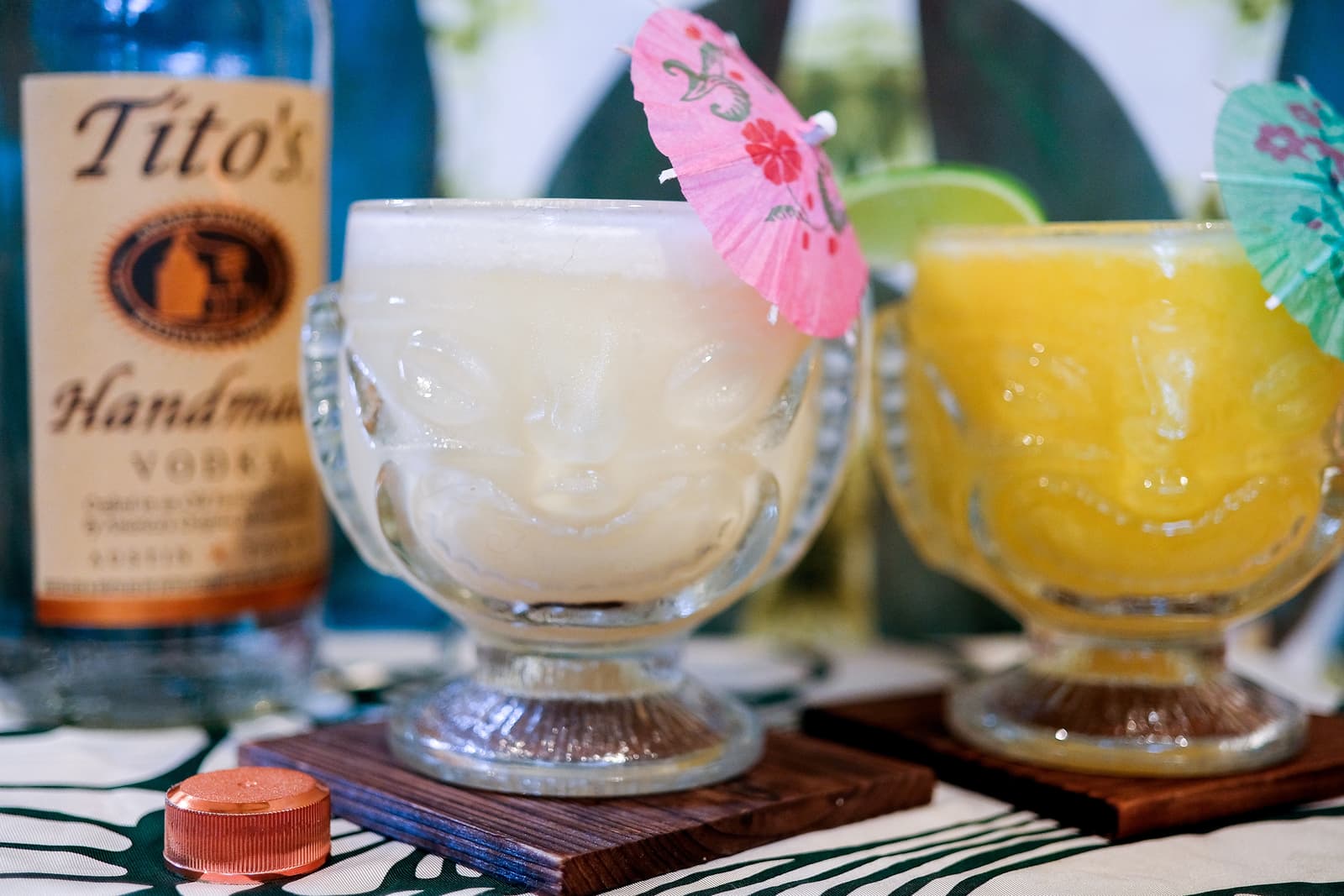 This tropical twist on one of our classic cocktails is a little bit sweeter and a whole lot cooler. Pro-tip: Mix it up in a blender for optimal smoothness.
Ingredients
3 oz orange liqueur

8 oz mango nectar

1 oz fresh lime juice

1/4 oz agave nectar

1 cup frozen mango chunks

3 cups ice
Directions
Add all ingredients to a high-powered blender and blend until smooth.

Garnish with cocktail umbrellas and a juicy lime wedge.

Serves 4.